COVID-19 modified services

WE ARE NOW BOOKED OUT UNTIL MID JANUARY 2021

The primary contact number for all boarding or training enquires is still 9753 5766, option 2

Our services have always been in high demand, however, we have been inundated with calls since the approaching end of lockdown and we are trying our very best to catch up. Please leave a message and we will get back to you as soon as possible. Please also understand that we do take time with each enquiry to ensure everything is explained in detail and all questions are answered.

Due to Coronavirus restrictions, Alpha Boarding School For Dogs is modifying its services to provide a safer training service. To that end, we are no longer picking up your dogs or bringing them back home as is stated on this site. All training and course hand-backs are performed at our purpose-built boarding and training facility where you will be taught at the end of your course all the skills required to apply the training at home. We have applied this hand-back model to dogs from interstate and country areas for the last 24 years, and with all dogs since the beginning of COVID-19, with great results.

Alpha Boarding School For Dogs is an outlier in our industry and has pioneered methods and standards that go way beyond the impractical techniques of science-based training, and the lack of reality that goes with supposedly positive methods that allow dog behaviour to spiral out-of-control when so often these behaviours are relatively easy to modify or rehabilitate. So don't worry if previous methods have let your dog's behaviour worsen, we can still help. The methods we have developed are based in REALITY and are specifically aimed at teaching your dogs to listen and behave, when required, in distracting, day-to-day situations.

We look forward to discussing your dog's training and/or behavioural issues with you and explaining how we can help.

Thank you for your understanding in these crazy times.
Boarding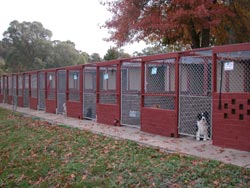 At Alpha Boarding Kennels all our pens are incredibly spacious with a cosy sleeping area that stays warm and dry in the winter and nice and cool in the summer. All pens can easily house 2 large dogs when required and we have even larger pens available for multiple dogs when required.
Our large exercise yards are grassed and there is no extra charge for letting your dogs stretch out and play during the daylight hours. The dogs stay out for hours at a time, if not all day when possible.
Prices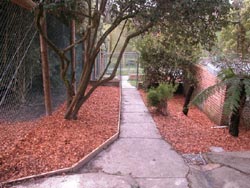 $50 per dog per calendar date (not per night) during off peak for a standard kennel. Early check out discount available (no charge if picked up prior to 10am).
$60 per dog per calendar date (not per night) during peak (Christmas, Easter, Public Holiday Weekends & School Holidays) for a standard kennel. Early check out discount NOT available.
The "long term" boarding specialists - dogs who are in for the longer stays are always impressive to their owners on their return. The simple fact is, dogs that stay with us are housed in large pens over night and run free during the day. With lots of supervision and caring attention your dogs are comfortable, happy and safe when they stay here with us!
Discounts apply for dogs on extended stays at our kennels - please call for a quote.
No bookings via email
Important Notice:
All kennel and boarding school bookings must be confirmed over the phone and entered into our database by one of our staff. Email enquiries will not be converted to bookings until confirmed over the phone!
Hours of operation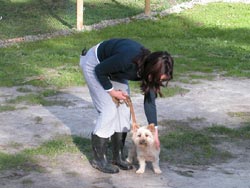 Office hours
Monday to Saturday: 8am to 4.30pm
Sundays & Public Holidays: Closed
Arrival & departures
Monday to Saturday: 8am to 3.30pm
Sundays: 10am to 2pm
Public Holidays: 1pm to 2pm only
For your dog's comfort, please try to drop them off at our kennels before 12pm. This gives us plenty of time to get acquainted with your dogs and for them to get acquainted with us and the kennel environment. We are extremely skilled at settling dogs in and by the end of the day they feel well at home.
As a general rule, we will not accept dogs after 4pm. Dogs left at the kennels late in the day can often be unsettled and stressed because they are unfamiliar with their surroundings - this can also unsettle the other dogs in our care. Please avoid this situation at all cost, it means a lot to your dog to get the chance to settle in properly!
Inspections
We welcome you to come and visit our boarding kennels and meet our expert staff.

Inspections are by appointment only - Monday to Saturday.

As a general rule inspections will commence after 10am so we can get the pens cleaned and the dogs out into their exercise yards first thing in the morning. To book an inspection, please call our office on (03) 5968 8101.
After Hours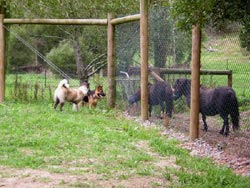 An after hours pick-up service is sometimes available on request and will be charged at $15 for every 15 minute block after 5pm (payable at pick-up).
Staff must be notified in advance and may not be available on short notice. We reserve the right to deny after hours service... it is not always available. Please do not assume after hours service!
It may only take you 5 minutes to come in and get your dog and then leave again, but it can take us another hour to ensure the other dogs in our care are settled again for the night. Our staff must be paid for this extra time. It is a huge responsibility and a lot of work to care for your pets during the day and everyone deserves their well-earned break. We hope you understand.
Vaccinations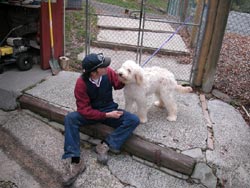 At Alpha Boarding Kennels we are very proud of our exceptional record of health in our client's dogs, including only having had a very small number of cases of Canine Cough reported since we took over this establishment in 2003. We attribute this to our vaccination standards, the spacious layout, the fresh air and overall calm environment at our kennels!
The minimum vaccination requirement for your dog is a current C5 level. Please check with your vet if you are unsure of your dog's vaccination status, you may need to upgrade.
Important note: Do not assume that your dog has been vaccinated to a C5 level if you have not specifically requested it from your vet. This level of vaccination is not always standard and it is your responsibility,
as the dog's owner, to ensure that this level of protection has been given to your pet.
Medication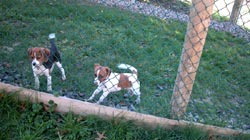 The staff here at Alpha Boarding Kennels are happy to give medication to your dogs providing it is safe to do so. If your dog is overly nervous, fearful or uncontrollable, please talk to us in advance to help devise ways of safely administering their medication. There's usually an easy way and we are more-than-happy to help out. If your dog requires medication, a $2.00 per day medication fee applies.
Veterinary care
Alpha Boarding Kennels has access to emergency veterinary care 24hrs a day if ever required.
For dogs requiring veterinary assistance during their stay due to existing conditions or injuries, please organise any details before the dog comes in so we can notify our vet.
There may be charges for extra care and observation above and beyond our standard care practices.