COVID-19 modified services

WE ARE NOW BOOKED OUT UNTIL MID JANUARY 2021

The primary contact number for all boarding or training enquires is still 9753 5766, option 2

Our services have always been in high demand, however, we have been inundated with calls since the approaching end of lockdown and we are trying our very best to catch up. Please leave a message and we will get back to you as soon as possible. Please also understand that we do take time with each enquiry to ensure everything is explained in detail and all questions are answered.

Due to Coronavirus restrictions, Alpha Boarding School For Dogs is modifying its services to provide a safer training service. To that end, we are no longer picking up your dogs or bringing them back home as is stated on this site. All training and course hand-backs are performed at our purpose-built boarding and training facility where you will be taught at the end of your course all the skills required to apply the training at home. We have applied this hand-back model to dogs from interstate and country areas for the last 24 years, and with all dogs since the beginning of COVID-19, with great results.

Alpha Boarding School For Dogs is an outlier in our industry and has pioneered methods and standards that go way beyond the impractical techniques of science-based training, and the lack of reality that goes with supposedly positive methods that allow dog behaviour to spiral out-of-control when so often these behaviours are relatively easy to modify or rehabilitate. So don't worry if previous methods have let your dog's behaviour worsen, we can still help. The methods we have developed are based in REALITY and are specifically aimed at teaching your dogs to listen and behave, when required, in distracting, day-to-day situations.

We look forward to discussing your dog's training and/or behavioural issues with you and explaining how we can help.

Thank you for your understanding in these crazy times.
About Us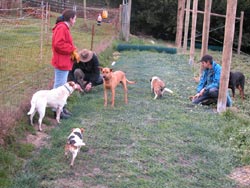 Alpha Boarding Kennels are proudly owned and operated by the husband and wife team, Greg and Amy Fontana. Greg has had over 19 years of dog training experience and is the current training director of Alpha Dog Training and Boarding School For Dogs, two very successful and dynamic dog training businesses here in Melbourne. Amy is also a qualified dog trainer with Alpha Dog Training and is the business manager for all our training and boarding services.
We purchased the kennel back in mid 2003 as a natural extension to our already successful Boarding School For Dogs business which had outgrown previous arrangements of boarding dogs in someone else's kennel. It was time to chase the dream even harder and take the next big step towards expanding the business and changing our lifestyle. We haven't looked back!
Since arriving our feet literally haven't hit the ground. From day two (after moving in) we started renovating the kennels and erecting new fences and exercise yards and generally doing up the place. We have a very clear picture in mind of a warm and welcoming environment that owners (and their dogs) will feel comfortable with. The feedback so far is a resounding 'thumbs-up' from the many new and regular clients who are thrilled with both the service and the atmosphere of the kennels.
We are passionate about our work and feel privileged to be doing something that we love for a living... working with dogs. Helping owners with their dogs, either on a boarding or a training level is a very rewarding feeling indeed!