About Us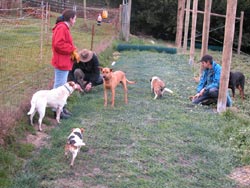 Alpha Boarding Kennels are proudly owned and operated by the husband and wife team, Greg and Amy Fontana. Greg has had over 19 years of dog training experience and is the current training director of Alpha Dog Training and Boarding School For Dogs, two very successful and dynamic dog training businesses here in Melbourne. Amy is also a qualified dog trainer with Alpha Dog Training and is the business manager for all our training and boarding services.
We purchased the kennel back in mid 2003 as a natural extension to our already successful Boarding School For Dogs business which had outgrown previous arrangements of boarding dogs in someone else's kennel. It was time to chase the dream even harder and take the next big step towards expanding the business and changing our lifestyle. We haven't looked back!
Since arriving our feet literally haven't hit the ground. From day two (after moving in) we started renovating the kennels and erecting new fences and exercise yards and generally doing up the place. We have a very clear picture in mind of a warm and welcoming environment that owners (and their dogs) will feel comfortable with. The feedback so far is a resounding 'thumbs-up' from the many new and regular clients who are thrilled with both the service and the atmosphere of the kennels.
We are passionate about our work and feel privileged to be doing something that we love for a living... working with dogs. Helping owners with their dogs, either on a boarding or a training level is a very rewarding feeling indeed!