Pickup & Delivery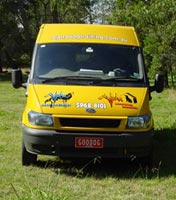 Alpha Boarding Kennels has a modern, safe and fully air-conditioned dog transport van that is available for the pick-up and delivery of your dogs.
Pick-up and/or delivery can be arranged when you book your dogs in for their stay with us and prices will be quoted relevant to your location.
Pick-up and delivery times are organised around our daily schedules, so please book early to avoid disappointment.